In collaboration with the National Population and Family Development Board (locally known as Lembaga Penduduk dan Pembangunan Keluarga Negara, LPPKN), MyKasih Foundation,  conducts personal finance management workshops, called SMARTBelanja@LPPKN, for MyKasih beneficiaries.
The programme helps participants to plan their monthly expenditure, to understand the difference between needs and wants, and to differentiate between good and bad investments.
To-date, 36 SMARTBelanja@LPPKN programmes have been conducted for MyKasih communities nationwide.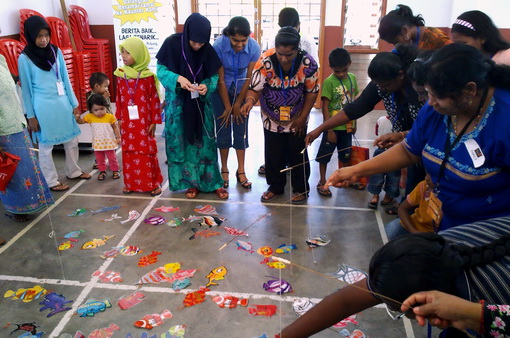 Additionally, NGO Partner Pusat Penyayang Kampung Sungai Kayu Ara has begun to offer MyKasih recipients a 10-module programme on financial literacy. Collaborating with non-profit organisation MalaysianCARE, the first programme was conducted in 2011 for 50 MyKasih families in Kayu Ara, covering topics such as budgeting, saving, taking loans and insurance.
In November 2011, 44 of DIALOG's MyKasih recipients have successfully completed a 10-month financial literacy programme and the graduation ceremony was held to appreciate their commitment to improve their socio-economic status and encourage them to be role models to others within the community.
Financial Education forms an important component within MyKasih's programmes in order to help families achieve financial stability by optimising on the one-year savings they receive in the form of food aid from MyKasih Foundation.