THE government's Prihatin Kasih cashless food aid programme is proving to be a boon to the underprivileged nationwide.
Seventy-year-old lorry driver Tukiran Mohd Hussein can attest to this. He was all smiles while shopping at Giant hypermarket in Persiaran Batu Nilam, Bandar Bukit Tinggi, Klang.
The Taman Kandis Permai resident said the aid was timely to ease his financial burden as he could not work during Phase One of the National Recovery Plan (NRP).
"I was doing odd jobs transporting goods but the current movement restrictions halted my work.
"At the same time, I have to care for my granddaughter, Faridah who is suffering from a mental disorder.
"The aid is actually given to her and I am helping to restock some groceries for the family," he said.
Faridah was one of the 300,000 underprivileged citizens from urban poor households nationwide to receive the aid.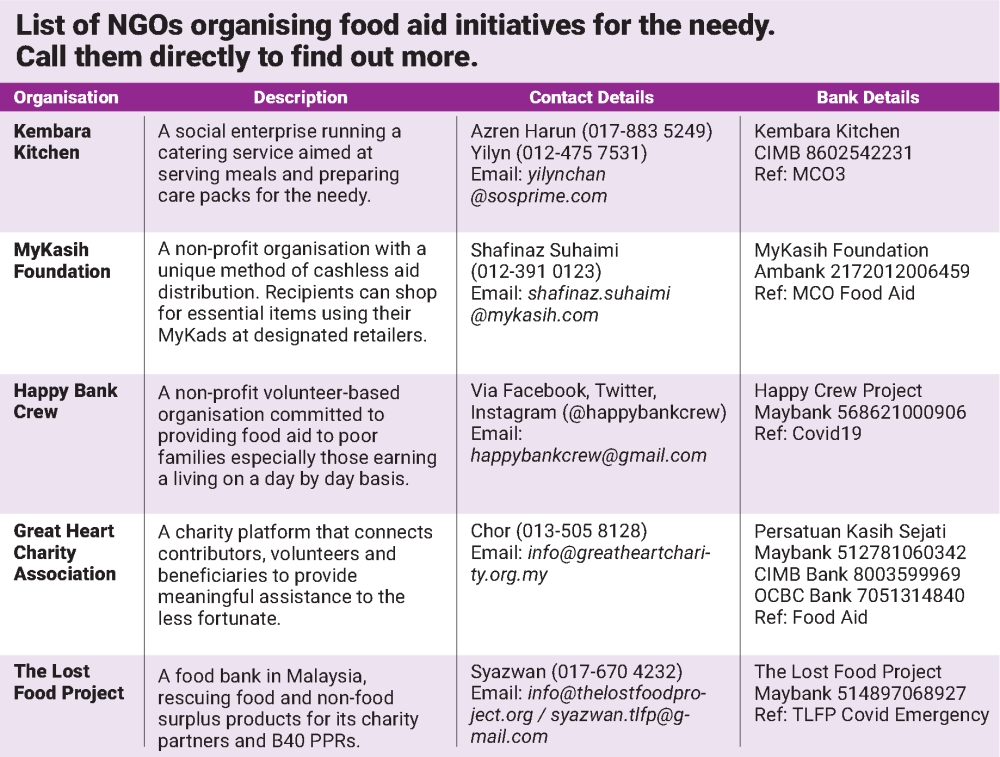 The Prihatin Kasih initiative, which kick-started on July 1 in Selangor and Kuala Lumpur, provides an allocation of RM100mil in cashless aid to urban poor families. It has since started rolling out to other states.
Non-governmental organisation (NGO) MyKasih Foundation has been appointed by the government to implement the initiative that runs on the unique technology of the MyKad to distribute aid in a targeted, efficient and secure manner.
Recipients are pre-selected and identified through the Welfare Department and e-Kasih databases and have been verified against the Bantuan Prihatin Rakyat data.
The recipients include vulnerable groups such as people with disabilities.
Each recipient gets RM100 per month for a period of three months to spend on basic necessities at selected outlets.
Any unspent balance can be carried forward to the following month to allow the recipients to fully utilise the aid given.
The programme ends on Dec 31.
Speaking to StarMetro after making the payment for his groceries at the same Giant Hypermarket, Anthony Martin Anthony said he was happy that the aid lifted some of his financial burdens.
"I am a retiree and rely on my savings to support my family in Taman Sri Andalas, Klang.
"The aid is for my daughter who has Down Syndrome, and it helps us to cope during this Phase One of the NRP," he said.
Foo Phang Ming, 60, lauded the government's efforts to help the needy.
"I am glad the programme gives us timely assistance, because the pandemic is affecting our income," he said.
MyKasih Foundation chairman and co-founder Tan Sri Dr Ngau Boon Keat said it was an honour to be entrusted by the government and Hasanah Foundation to manage the disbursement of aid to selected beneficiaries via the MyKad.
"Given the rising number of Covid-19 cases and the urgency in assisting B40 households with basic provisions, we are fortunate to be able to leverage on the extensive network of more than 300 partner retailers such as Giant, Econsave, Mydin, Lotus Stores, Aeon, Speedmart 99, MyHero, TF Value Mart and many other neighbourhood provision shops to serve the recipients.
"The MyKasih cashless programme can be quickly and efficiently executed in a safe and secure manner, with no cash exchanging hands.
"Given that we are still observing various movement restriction protocols, this cashless method of aid distribution is a viable alternative to helping families in need as it practically removes the need for community volunteers to procure, store, pack and assist with food delivery.
"And most importantly, this prevents queueing and crowding of recipients to receive food aid," he said.
MyKasih Foundation was established in 2009 to meet the immediate needs of families struggling with poverty.
Its flagship "Love My Neighbour-hood" cashless food aid programme ensures that there is food on the table for those families.
Since the foundation's inception, RM280mil worth of aid has been channelled to more than 300,000 families and students nationwide in the form of food and educational support.
In addition to the "Love My Neighbourhood" cashless food aid programme, MyKasih also runs the "Love My School" student bursary programme.
Student beneficiaries are given monthly cashless bursaries worth RM60 to RM80 via their MyKad-linked student smartcard for a full academic term to buy food and drinks at the school canteen as well as books and stationery at the school bookstore.
Out of the 112 national-type schools MyKasih is currently supporting, 32 are Orang Asli primary schools in Pahang, Perak, Kelantan, Selangor, Johor and Terengganu.