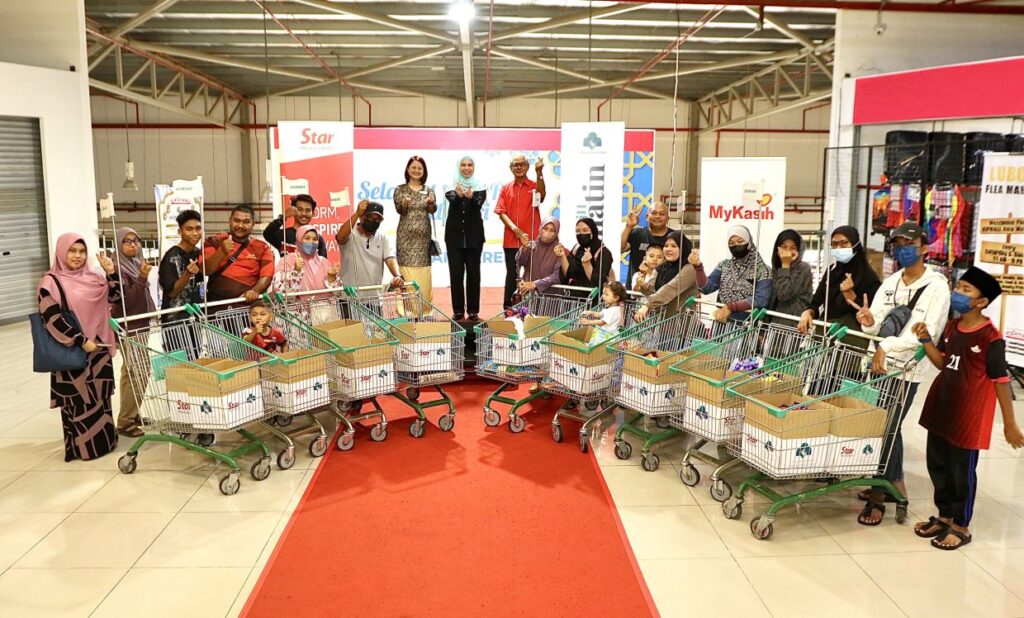 SEPANG: For a single mother from Kota Warisan, the assistance from Putrajaya Holdings was warmly welcomed as she prepared for Hari Raya Aidilfitri this year.
Sri Marni Zainal Abidin, 44, was diagnosed with fibroids that stopped her from being able to do heavy work.
"I was hospitalised and I was advised not to do heavy work, since then I've been staying at home," she said after receiving the assistance in collaboration with charity organisation MyKasih Foundation at a supermarket here on Monday (April 17).
Sri Marni said her eldest daughter who has graduated from college studies has been the breadwinner of the family of three.
"My daughter works at a kindergarten nearby here, and she has been financially supporting the family.
"Since I'm sick, a lot of expenses are needed," she said, and added that she has been receiving treatment in Kuala Lumpur General Hospital.
Sri Marni is one of the total of 200 families from B40 categories selected by MyKasih Foundation to receive RM200 worth of grocery items and RM50 duit raya.
A Muslim convert, Aisyah Rani Francis, 41, said she was grateful to be chosen by the organisation to receive the assistance that could help her face the celebration with a peace of mind.
"I'm so happy to receive the assistance that consists of the grocery and duit raya (cash assistance)," she added, who hailed from Tambunan, Sabah.
Aisyah Rani said despite her being new to the religion, her fellow Muslims in the community had never sidelined her. Instead, they had been extending a lending hand.
Star Media Group chief business officer Lydia Wang said: "In conjunction with Hari Raya, we're grateful to partner with Putrajaya Holdings to bring some festive cheer to families in need.
"Basic necessities such as food have become a luxury for many. We hope this assistance can help lighten their burden as they usher in the celebrations," she added.
Also present at the assistance handing over ceremony attended by 10 selected families were Putrajaya Holdings (PjH) chief executive officer Datuk Hashimah Hashim and MyKasih Foundation board of trustees Datuk Yaacob Md Amin.
MyKasih Foundation is a charity organisation that aims to help underprivileged Malaysians through food aid and education.
The uniqueness of the MyKasih programme is in the cashless payment system that drives its welfare distribution.
For more information, visit www.mykasih.com or email [email protected].
Continuous commitment to serve the community
PjH is committed to continue its plan to carry out sustainable and valuable corporate social responsibility for the coming years.
Its chief executive officer Datuk Hashimah Hashim said that PjH has always been cognizant of the welfare and well-being of its community.
"In the past we have allocated a sizeable amount on similar CSR programs aimed specifically at helping to ease the burden of those in need – hence, we will continue to have (both short and long-term) plans to ensure that the CSR program that we carry out is sustainable and create value to our stakeholders," she said.
Hashimah also added that the latest CSR in collaboration with charity organisation MyKasih Foundation and Star Media Group would hopefully create positive alliances among neighbouring Putrajaya communities.
"We hope that this collaboration (Ramadan Raya Campaign 2023 with Star Media Group and MyKasih Foundation) will lead to other CSR collaboration opportunities that will enrich the lives of other families similar to the ones that we have impacted today.
"As one of the nation's progressive property developers, we have a long-standing commitment to give back to the community and improve the quality of their Hari Raya Aidilfitri celebration.
"This program is about providing basic needs and duit raya to a number of urban hard core poor families from nearby Sepang and Bangi towns," she added.
In conjunction with the Hari Raya Aidilfitri celebrations, Hashimah wished all Muslims in the country a blessed Eid with family and friends.
On the newly launched Residensi Sakura located in Presint 11 by PjH, Hashimah said the developer will bear the legal fee on preparation of sales and purchase agreement as well as stamp duty on transfer costs for the potential buyers.
"Residensi Sakura is sold with a 10% discount for all Malaysians and 10% rebate (being zero downpayment)," she revealed.
For further information, visit www.pjh.com.my.